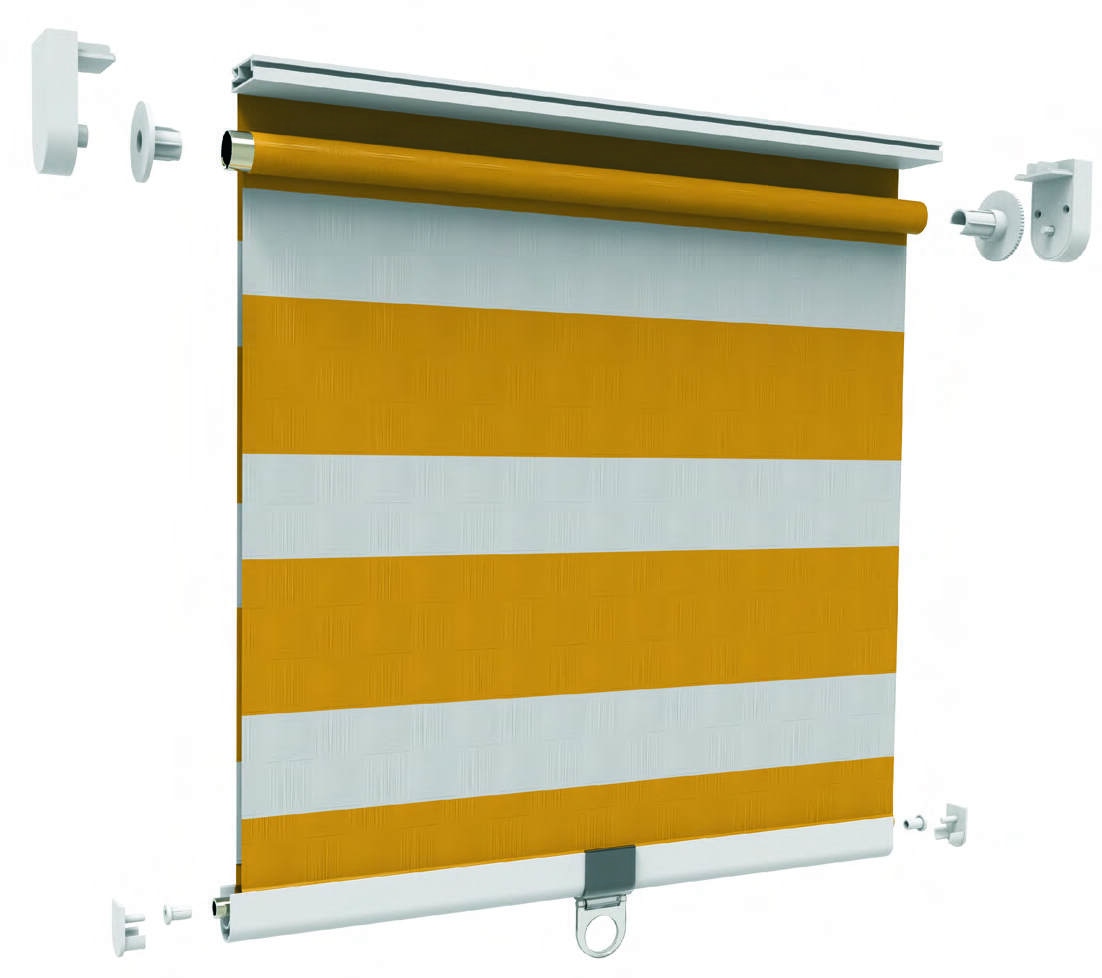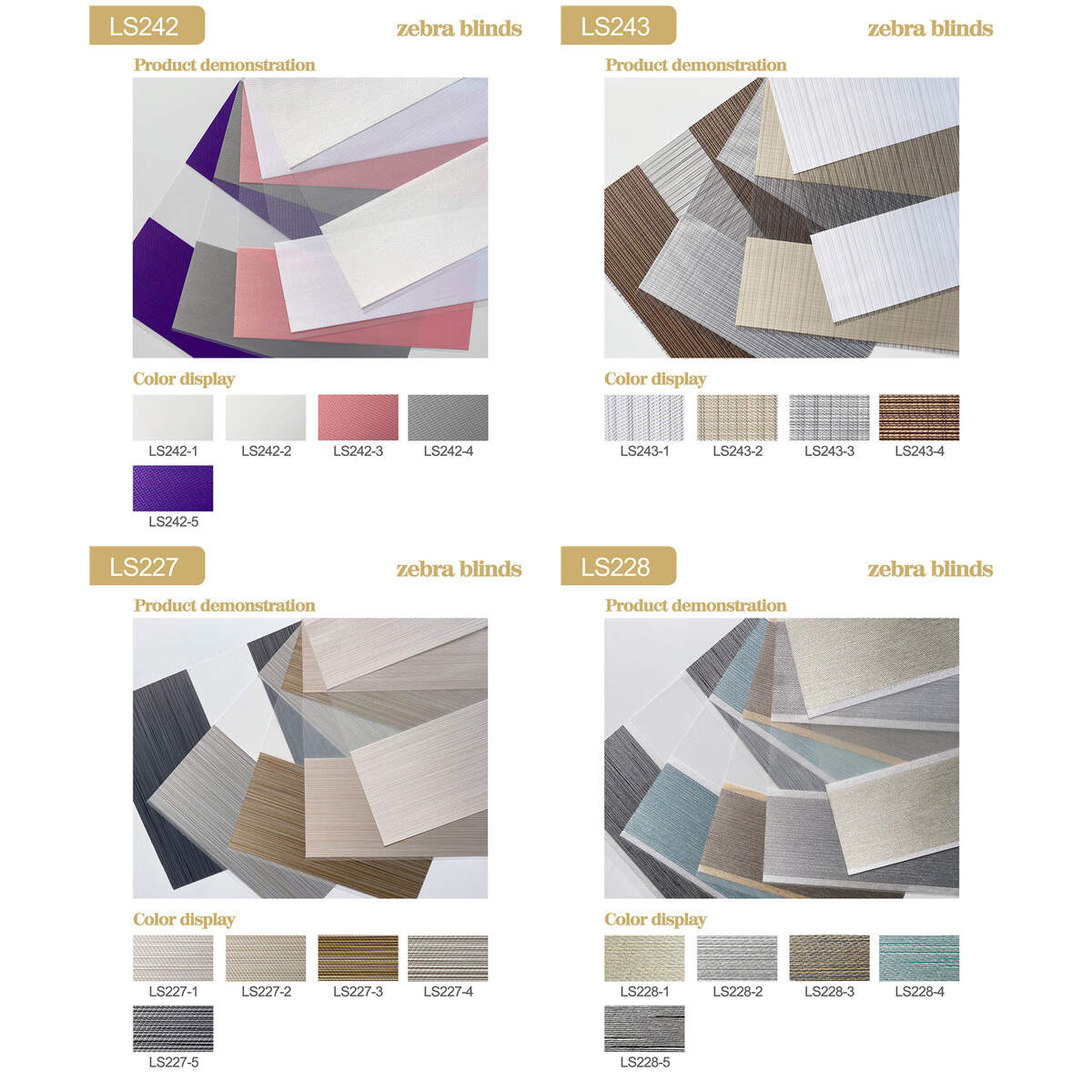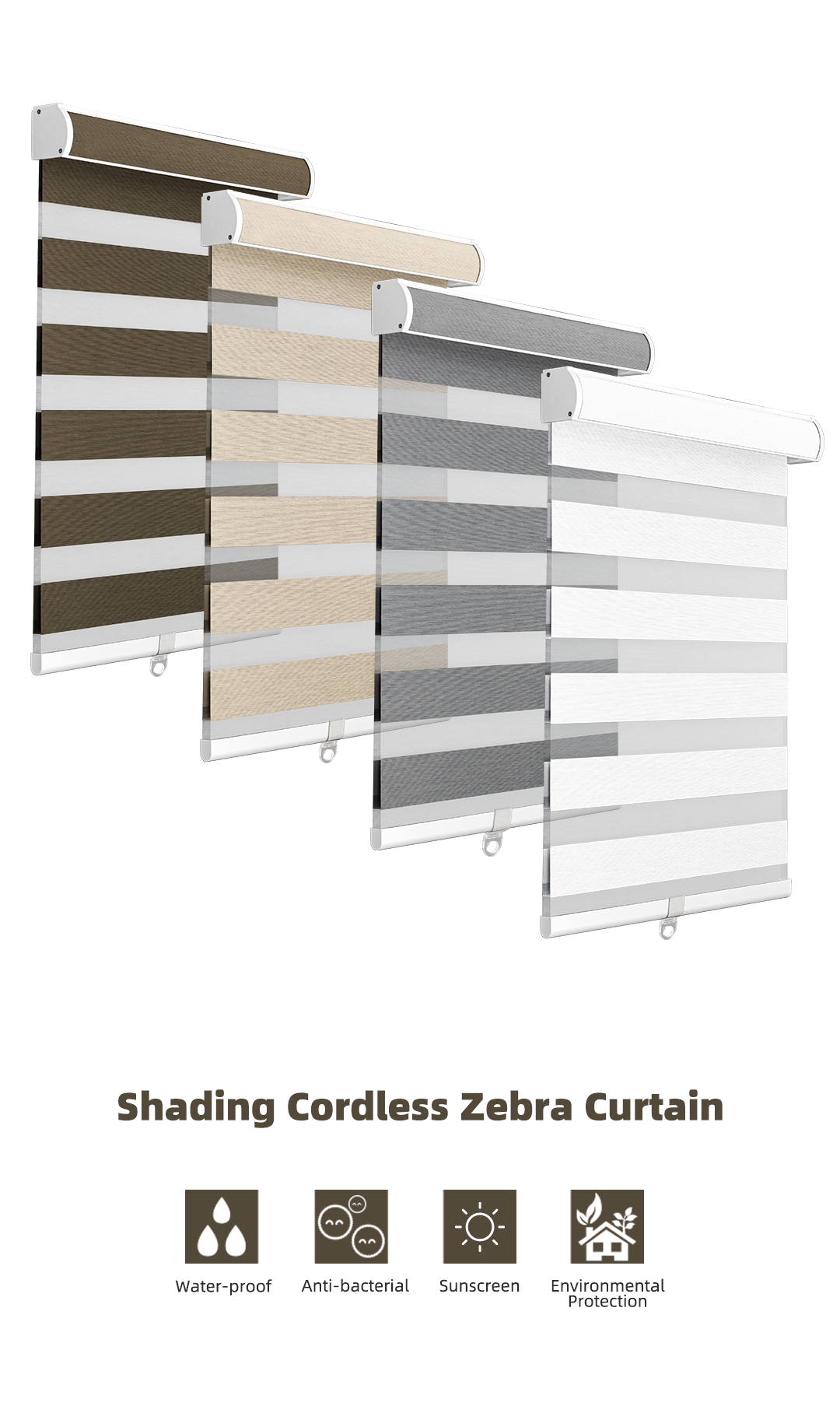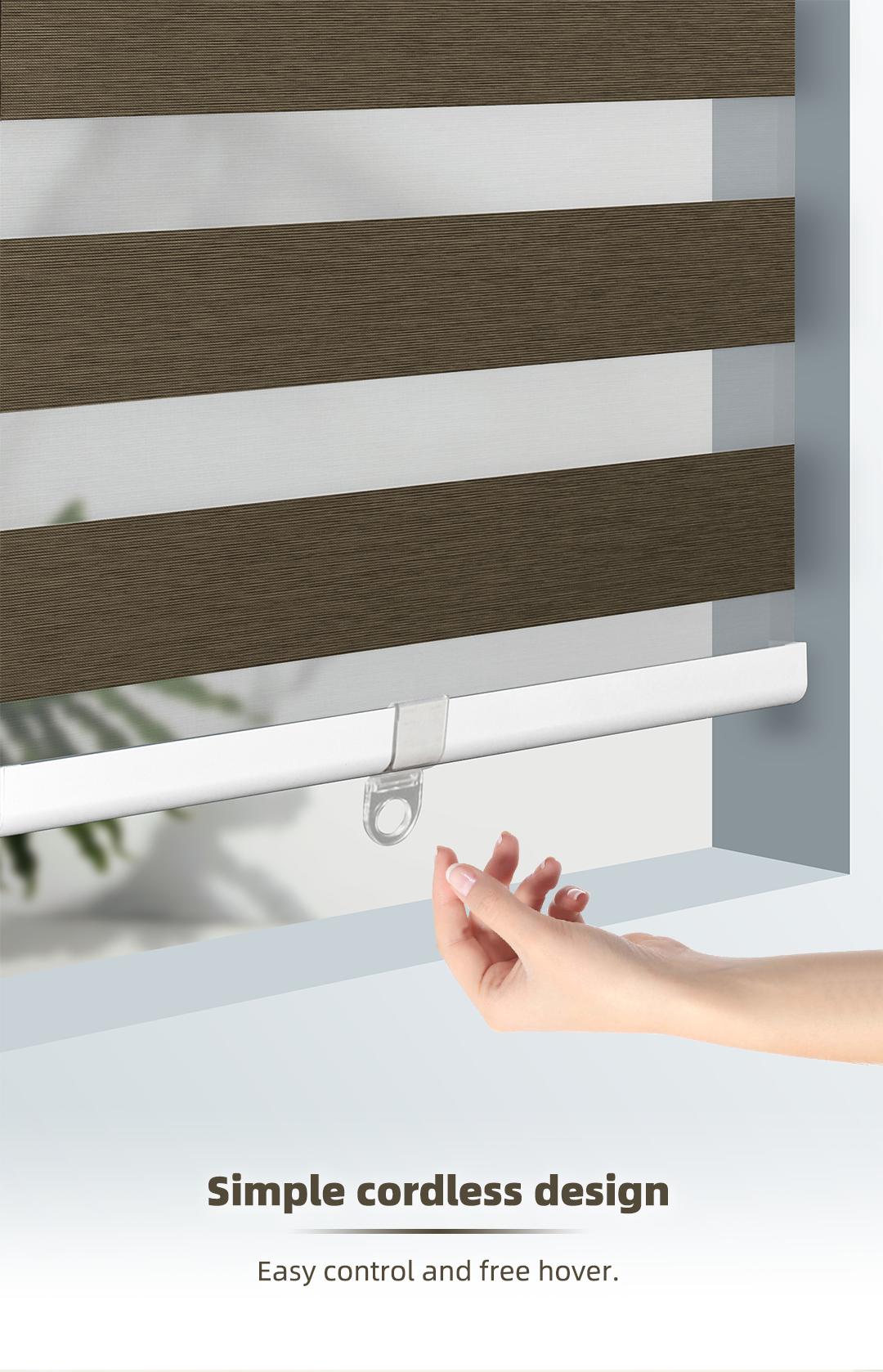 Zebra blind
Zebra blinds, also called dual blinds, are a modern roller blind alternative to horizontal blinds. Consisting of alternating horizontal opaque and sheer fabric stripes, these blinds transition from day to night easily. By adjusting the stripes, you're in control of how much light and privacy your room receives.Zebra blinds are Roller shades that allow you to transition between sheer and privacy. With a modern elegant style Zebra roller blinds are easy to install and they can be mounted on the inside or outside of the window frame.
Sizing: Zebra Roller Blinds For Windows come in a wide range of custom sizes: From 300mm to 3000mm. Included with Purchase: Cassette Bottom rail Mounting hardware.
Advantage
1. Our cordless zebra blinds Made of %100 Polyester fabric,aluminum alloy head and bottom tube.Heavy duty spring control mechnism.Zebra Roller Shades are woven with high quality polyester fabric, which combined sheer mesh and opaque dual layers, easily switch between sheer and opaque layers. High quality polyester fabric gently filters light while providing privacy. By pulling the zebra blinds to freely adjust the room light. Zebra roller blinds will enhance the performance and appearance in home/office/kitchen/bedroom/living room/bathroom.
2. Direct Supply from manufacturer with wholesale prices.Our textiles meet high safety and environmental.Easy to Install.A variety of colors and patterns are available.
3.HIGH QUALITY - Easily switch between sheer and privacy with this modern and stylish dual combi shade. Double Layer Zebra Shades combine alternating sheer and solid fabric bands in a single shade. Cordless Ready Made Double Layer Roller Shades and Classic Roller Shades help establish the look and feel of a building. From single offices to the largest public areas, roller blinds will enhance the performance and appearance of any space.

Application
Bedroom : Cordless window blinds that elevate your decor.
Living room blinds : Pull down shades for windows with a cordless mechanism that can easily be pulled up or lowered.
Kitchen blinds for windows : Light filtering shades that provide privacy and gently block harsh UV rays. Can also be complete sheer shades.
Door Shades : Roller shade for semi-privacy and a light filtering finish.
RV roller shades : Roll up curtain are sleek and durable for everyday use.
MEASUREMENTS
Inside mount
Measure the width and length inside of the window frame. Select the window width and length to make the order. Window depth need more than 2 Inches, otherwise please choose outside mount.
All shades have a half inch deduction. If you order 35" wide size, you will get an exact 34 1/2" shade.
Outside mount
Measure window outer frame width and length. Add +4 Inches on the window width. If your window frame is 35" wide, pls select 39" wide shade.
Installation
1. Hold the headrail up and position it using a leveler so you can make sure it is centered and straight. Mark the position with a pencil.
2. Now grab the brackets and determine their positions using the pencil marks you made in the prior step. For zebra blinds, one bracket should be positioned about two to six inches from each end of the headrail. For wider shades that require three or four brackets, these should be spaced evenly between the two outermost brackets. Mark the screw holes for these brackets using a pencil and check the measurements using a leveler once again.
3. Create pilot screws for the brackets using a power drill and a 5/64" drill bit. If you don't have a power drill, you can DIY pilot holes by tapping a nail partway into the wall using a hammer, and then remove it. Attach the brackets using the correct screws and/or anchors.
4. To secure the zebra blinds, slide the inner rear of the headrail onto the metal tabs at the back of each bracket. Push up so the brackets snap onto the headrail. Using pliers, pull the plastic tab on the front of each bracket outward toward the front of the shade to lock the brackets in place. Check carefully to assure each bracket is properly secured.
5. Decide on where you will place the cord guide and mark the holes using a pencil. Create pilot holes using a pencil, and then attach the cord guide to the window trim or wall using screws. Make sure not to place the guide so low it puts tension on the cord, as this will impair the function of the window.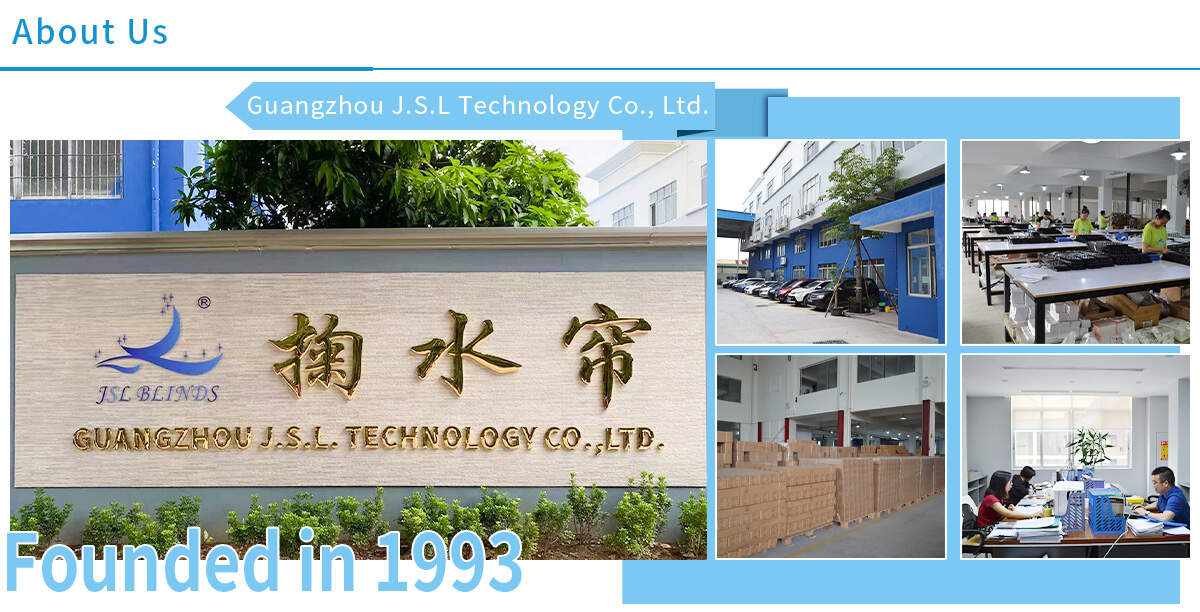 Company Profile
Guangzhou J.S.L Technology Co., Ltd.is situated in guangzhou,China. Our factory was found in 1993,we are a manufacturer that produces and sells a variety of window blind and intelligent sunshade products.Our own workshop covers an area of about 10,000 square meters, with three main production lines,several automatic and semi-automatic professional production lines,such as automated mini blind equipments, roller shade equipments, packaging equipments, etc.We have about 100 skilled production staffs, 20 management staffs,5 development and design staffs. Committed to becoming a one-stop purchasing blinds factory,our production line includes aluminum blinds, wooden blinds,faux wood blind, vertical blinds, PVC venetian blinds, bamboo blinds, roller blinds,vertical blind,zebra blind,RV blinds,motorized blind and related blind parts, blind making machines.
We can yearly output 1.5 million pcs PVC and aluminum blinds,500,000 pcs faux wood blind,200,000 pcs vertical blind,1.5 million pcs roller shade, 1.5 million pcs pleated shade,1.5 million pcs other blinds. Our products are exported to Europe, America, Southeast Asia and the Middle East and have won us a good reputation. As one of the most well-organized and experienced professional manufacturer of window decorations in China, we can ensure excellent quality, attractive prices and good services. We are trying our best to satisfy our customers through continuous research and development of new products and prompt delivery. Clients from domestic and abroad are welcome to contact us for business cooperation. About 100 skilled production personnel, 15 excellent quality inspectors, and 20 experienced management personnel ensure product quality and delivery time. 10 sales provide customers high-quality pre-sales and after-sales service.
Our services
OEM
ODM
Free sample
6 months quality guarantee
On-site or online factory and goods inspection
Online survey site, remote guidance of design, installation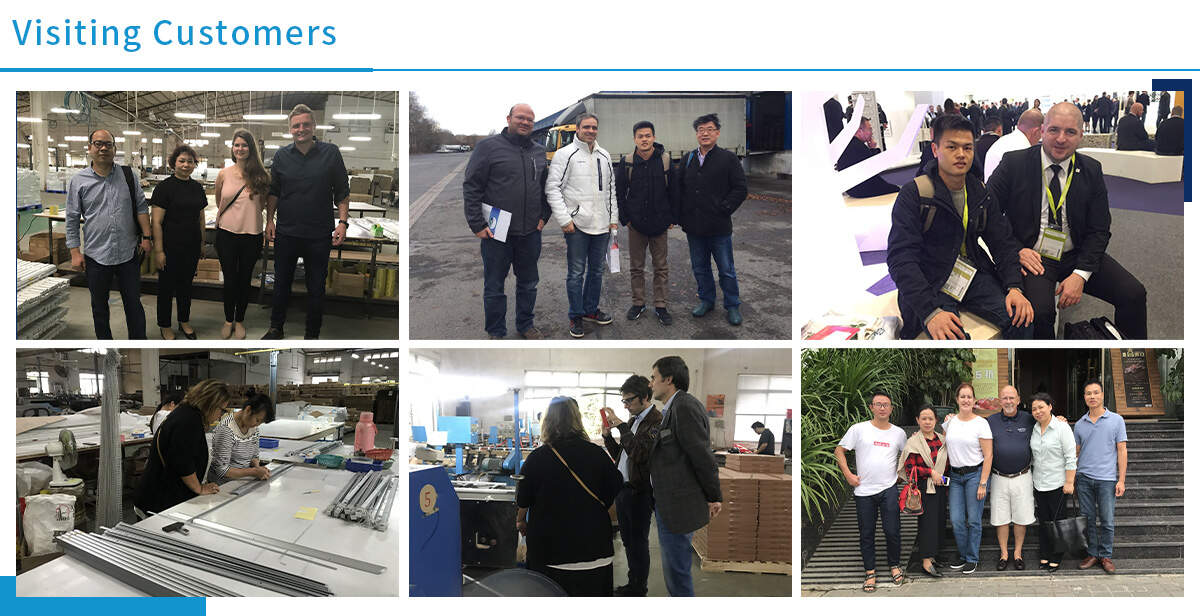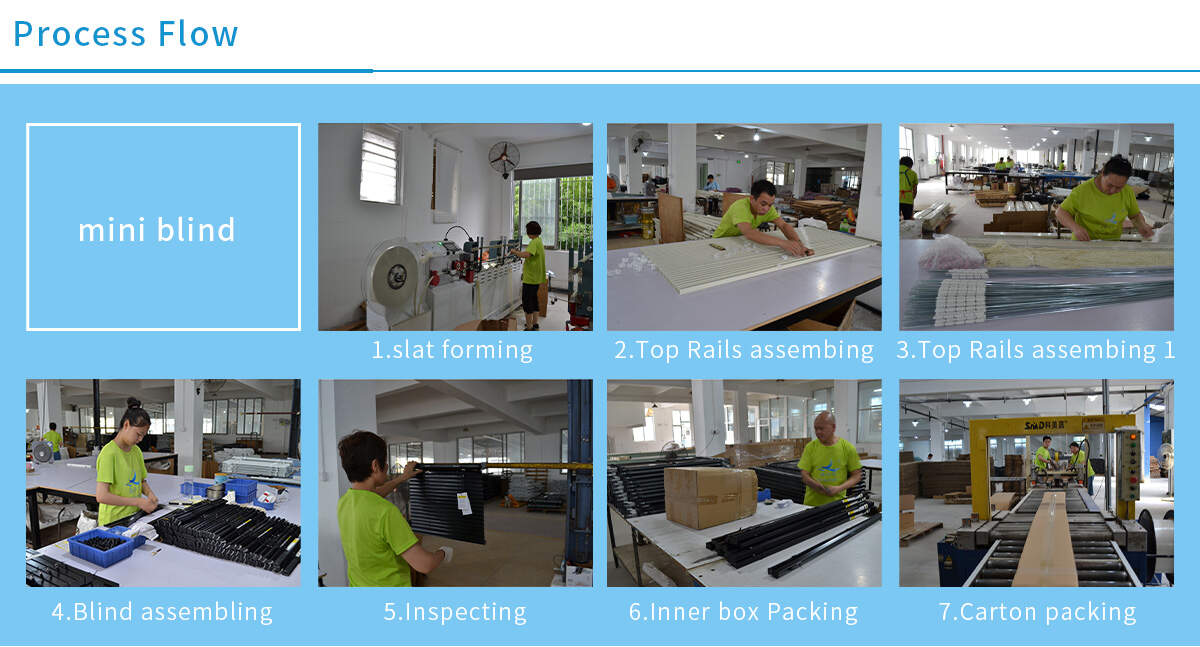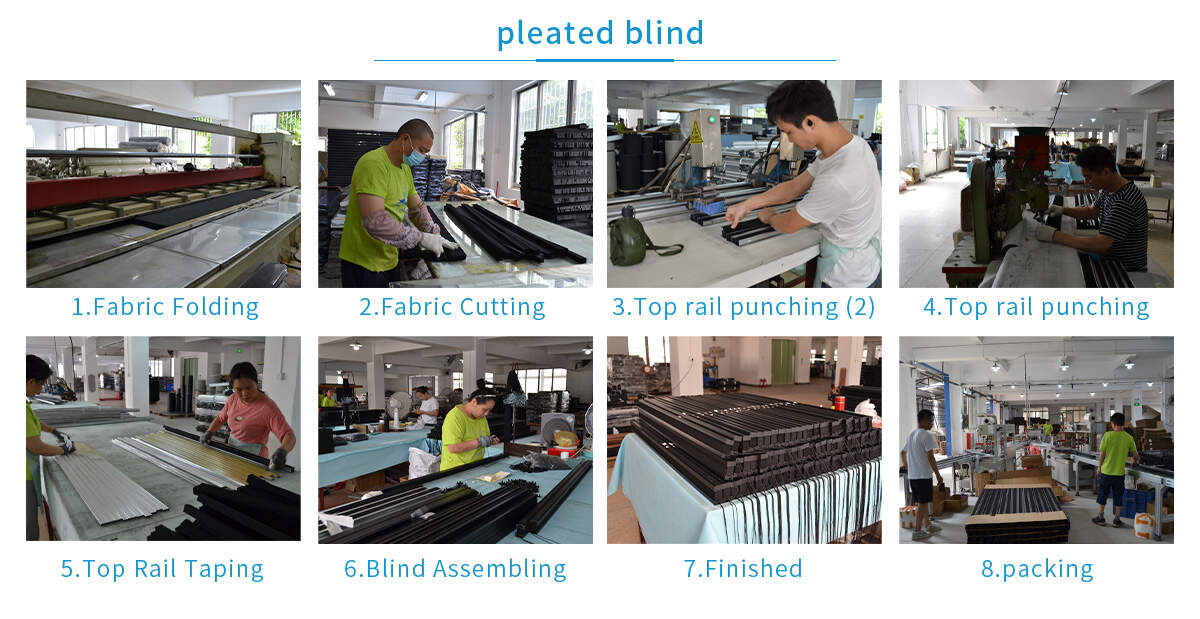 Process flow of venetian blind
Forming and punching of slats
Rails prep installation
Connect slats anad rails
Inspection
Package
Process flow of fabric blind
Fabric cutting, folding
Rails prep installation
Connect fabrics anad rails
Inspection
Package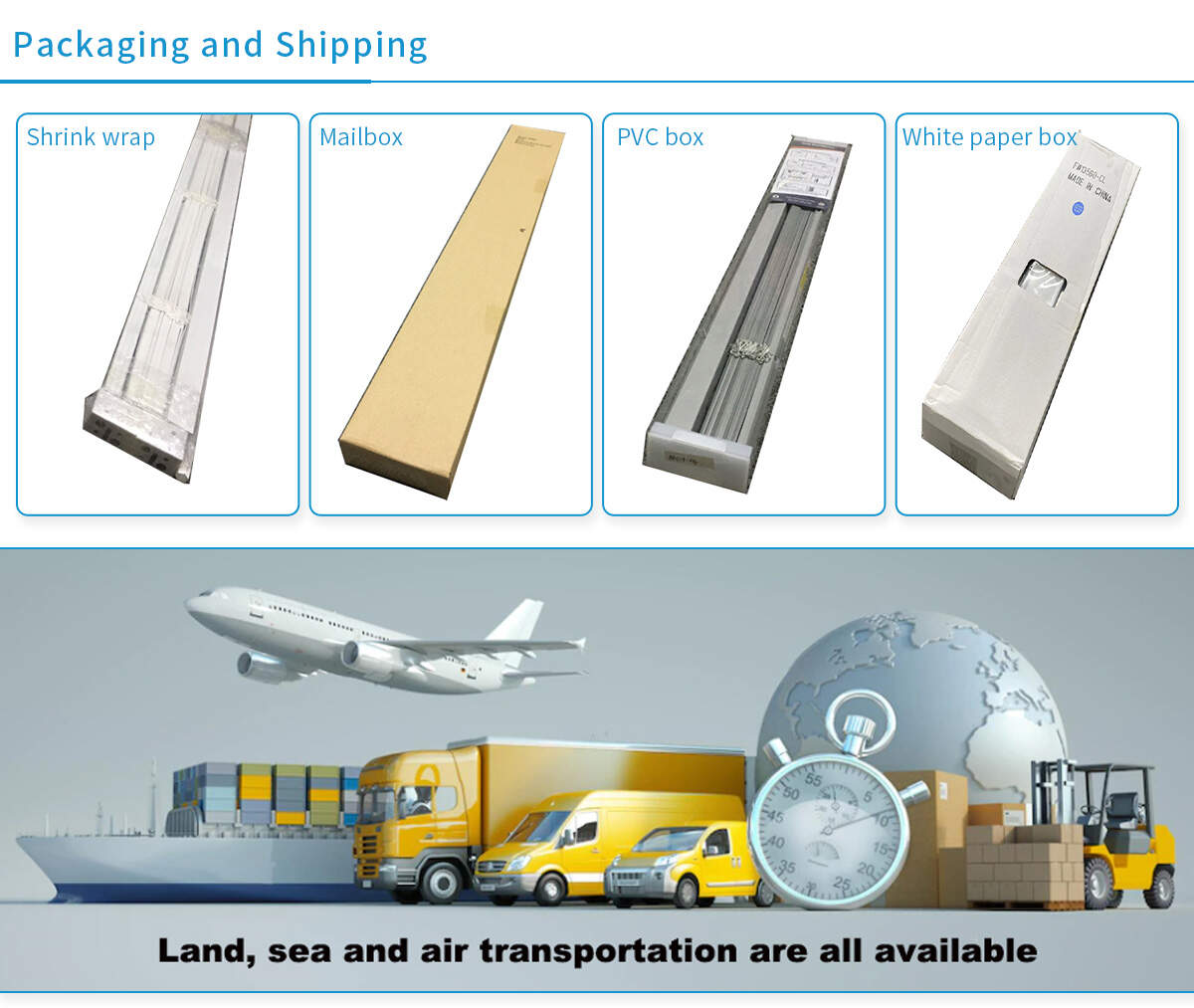 Packing & Shipping
Generally, the goods are delivered to customers by sea or air, the production time is 45-60 days, and the goods are packed in carton or pallets.Sale package option: Paper boxes, PVC transparent boxes, mail order boxes and so on.What is more, packaging can be designed according to customer requirements.
FAQ
Q: What is the MOQ?
A: MOQ: 300PCS
Q: What is your delivery time?
A: 45-60 days
Q: What is the payment method?
A: TT,L/C,Paypal, West Union, 30% deposit,70% balance before shipping.
Q: How do you guarantee the quality of your products?
A: we have an inspection team of 10 workers, 100% inspection for every piece of blind from appearance to function.
Q: Are you a factory or a trading company?
A: We are a manufacturer.
Q: Where is your factory?
A: Guangzhou,China
Q: Are custom services available?
A: Yes.
Q: Do you support OEM and ODM?
A: Yes.
Q: Why choose us?
A: We have the following advantages: competitive prices,high quality, on time delivery,free samples.7/24 hours after-sale service.We can be your trustful partners on window blinds and shades markets!
Q: How long is the product warranty?
A: 6 months.
Q: Does your packaging ensure product safety?
A: Sale package option: Paper boxes, PVC transparent boxes, mail order boxes and so on. Seaship outer package:and the goods are packed in carton or pallets.
Q: What information do I need to provide to get an accurate quote?
A: Blind type, blind width and height, quantity and other request.
Q: How can I get product progress without going to your company?
A: We will keep you updated on production stage by email,when the goods are ready you can have video inspection,video shipping monitor.
Q: How is your after-sales service?
A: 7 sales provide customers high-quality pre-sales and after-sales service.
Q: Can samples be ordered?
A: Yes.
Q: How much is the sample fee, can it be refunded after bulk product?
A: Most samples are free, for high value samples we will charges and refund accordingly order scale.
Q: Do you provide quality assurance?
A: 6 months quality guarantee.
Q: Do you support providing samples?
A: Yes.
Q: What is the supply capacity?
A: We can yearly output 1.2 million pcs PVC and aluminum blinds,450,000 pcs faux wood blind,200,000 pcs vertical blind.